What Are the Best Fishing Lures to Use?
Posted by CASSIE SMITTY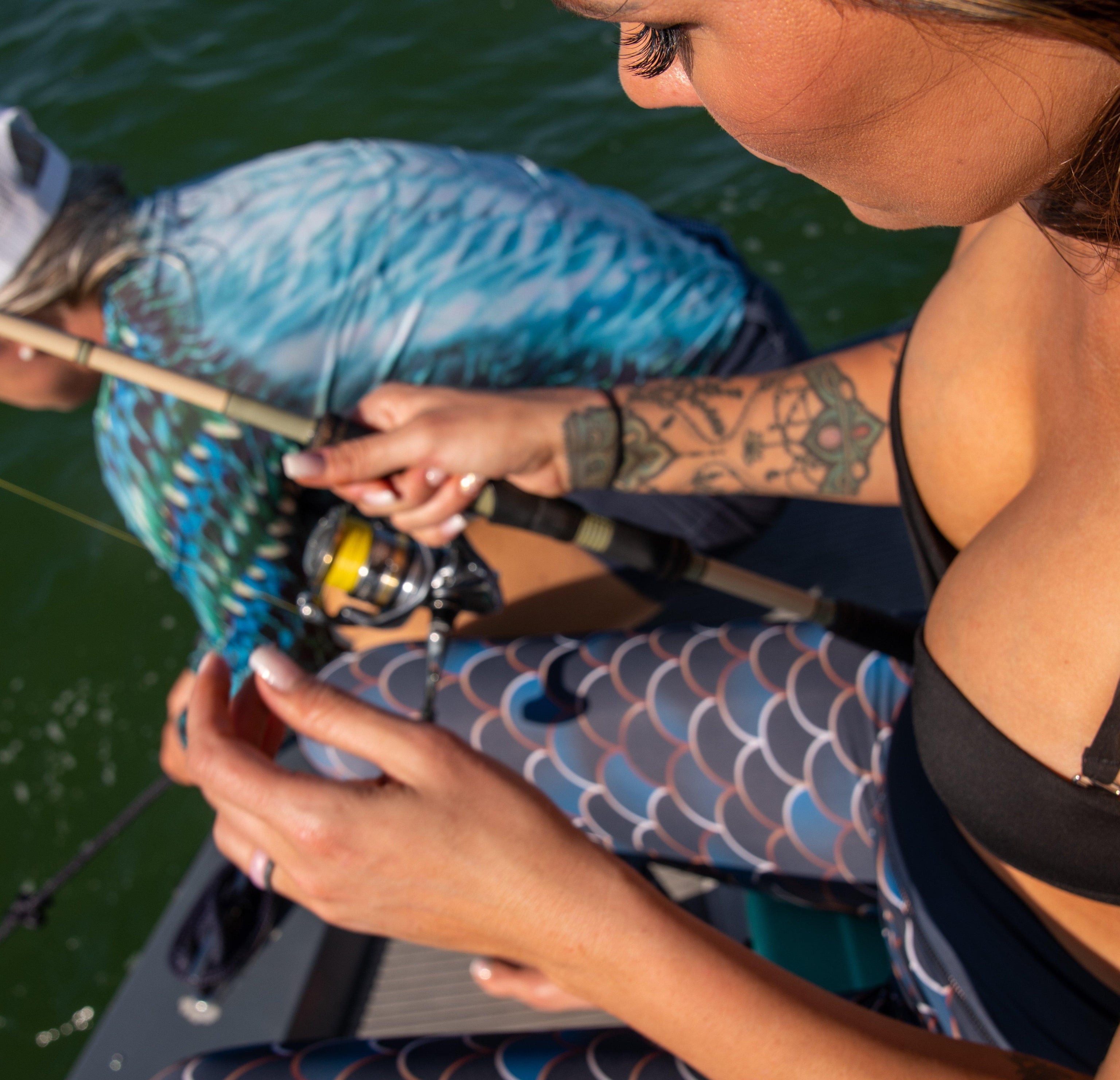 First, let's start with the basics Lure Terminology
There are many ways to lure in fish to your boat. Words like rigging, chumming, and luring come to mind. However, there are many varieties when it comes to lures and trying to decipher between all of them can be a confusing process. In addition, knowing when to chum as opposed to lure can be equally challenging when you are ready to catch the most fish that you can.
When deciding whether you should lure or chum, you should be aware of what type of fish you are trying to catch. Chum is a mess to make, distribute and to store so be sure that you are using it for the right reasons. Lures are used most of the time, but if you are dealing with fish who heavily use their sense of smell, lures may be a waste of time. As a rule of thumb, chum is used in order to bring fish to the boat and lures are generally used for spot fishing.
When you decide to use a lure, what type do you choose? There are many kinds of lures, and they are used in different regions for a variety of purposes. If you learn the basics, then you will not have to look like a novice by reading the back of the package will perusing the aisles in the stores.
A lure is defined as an object, often designed to resemble a fish's prey, and they usually come equipped with one or more hooks that are used to catch fish. You will attach a lure to the end of your fishing line and throw it out into the water until a fish takes a bite. The one exception to the rule is the fly lure, which is used to float on the water's surface mimicking the movement of an insect. You can also troll lure behind a boat to create the appearance of a living animal in the water. Some of the different types of lures are classified as jigs, wobblers, spinner, spoon lures, plugs, fly lures, and worms.
Jigs are made of weighted metal heads and a tail that is made from animal hair, soft plastic, feathers, or rubber. A minnow can sometimes to be added or a piece of meat can be attached to the end of the hook. Jigs can be used for almost any kind of saltwater or freshwater fishing.
A spoon is a metal lure that looks like a bait fish. These lures are meant to be cast or to be trolled behind a moving vessel. The plastic belts are the most thought of baits. They are the plastic worms that are sometimes scented in order to attract more fish. The plastic belts can be used with or without a weight, but a jig head, spinner, or a spinner bait always accompanies them.
Plugs are made from plastic or wood and can be used on top of the water. There is a separate category of plugs called diving plugs that are designed to plunge into a certain depth of the water.
 The spinners have blades that spin around a wire shaft, and they are made of plastic or animal hair. The spinner baits are the lures with more than one blade that spin around a safety shaft.
Lastly are the poppers and flies. These baits are primarily used for panfish, trout, and bass. Fly-tying is a harder concept to learn, making these lures unique. 
Lures are tested and decided upon by the individual. Many lures are determined to be useful by trying them out time and time again. When you become comfortable with a certain type of lure, you will be able to expand on its possibilities, making it more individualized for your fishing purposes.
What Fishing Lures Should You Use for What Fish?
Spoons- Considered the simplest of all other lures, they got their name because they look like the head of a spoon. They act for the bait fish by doing a flickering and wobbling movement or action. Spoons are excellent for starters in lure fishing; easy to use and very affordable.
 Spinners- The spinner is basically a blade wherein it does a rotating action on a spindle when being retrieved or taken back through the water as well as it gives off a flash as light is being reflected on the revolving blade, characterizing the bait fish's scales and movements. This is a lure that is flexible because only can one verify and know the retrieve depth by the period or time frame one leaves before one starts a retrieve, one can also alter the speed of the revolving blade around the spindle, by either speeding up or slowing down ones retrieve. For the Trout and Mullet, a smaller size is recommended, and a larger spinner with the pike liking, along with the treble hook in a red wool.
Surface lures- These lures are used on the water surface and considered to be the most explosively thrilling of all lures as one could see the fish taking the lure, and the anticipation and the expectation of one looking forward of the take is an exciting experience.  The fish can be completely seen exiting the water when they send off at a surface lure. Since these lures are being retrieved on the surface of the water, they can be a good choice in areas that have a lot of weeds. 
Suspending plugs- Having neutral buoyancy and resistance, when the plug has dived or dropped to the required depth and left alone, it will continue being suspended to that depth. For this reason, this type is perfect for pursuing your prey hidden near the weed beds, rocks or banks. When yanked in order to imitate life to the plug, it causes some crashing attack from your target.
Floating drivers- A necessity for all lure anglers, they cover a wide scope in diving depths, beginning from just beneath the surface up to fifteen feet or more. The diving depth is established on the point of view of the vane or fin to the body of the lure. The lesser the angle to the body of the lure the deeper it can dive. The shape as well as the size of the vane and the lures body contributes to the movement of the plug in the water.
Sinking plugs- These are excellent for deep water fishing, wherein the retrieve can start soon as the preferred depth is reached. This is accomplished by counting down before one starts the retrieval process. Therefore, the same depth will be reached whenever one casts. The distance that the lure has sunk down in a particular time, will give a suggestion of how deep or how far down the fish are situated when they strike; thus, this is called the sink rate of the lure.
 Soft baits- This is soft rubber bait that comes in various shapes and forms, with matching sizes and colors. These are commonly used for sea and freshwater fishing, which can be used on a weighted jig head handled in the same manner as the jerk bait, being managed as a plug is used.
Jerk baits- Having no movement of its own when in the water, the angler gives life to this lure; whenever the rod trembles or shakes or jerks, this lure can appear to have life. This lure for the most part, mimics an injured or wounded fish that the prey fish find tempting, and be compelled to thrust or lunge at.
Below are some of the typical lures used for fishing.
 Light Standard Casting Lures- For Standard casting lures, they are mostly able to attract a wide range of fish varieties from albacore, bluefish, Bonita, oho and crappies. These lures are also excellent for certain species of bass fish and work best when retrieved from water at low to medium speed. They pass through water with undetectably synthetic material.
Their sizes are excellent for lightweight fish and a host of freshwater species. They range from 1/16 oz. to 3 oz.
The hand painted eye is enticing enough to allow schooling of fish. This feature allows for more chances of trapping one of the target fish in the water.
Heavy Standard Casting Lures- Heavy Standard Casting Lures are excellent for quite heavy fish specifically, walleye and bass.  While the lightweight lures are used in most circumstances, it was shown that heavy counterparts provide more reliable fishing output.
Moreover, the heavy standard lures are able to catch fish than diamond and light standard casting lures.
Long Casting/Jigging Lures- Perhaps the most popular among the fishing lures are the long, tapered jigging lures. They are perhaps the most used fishing lures among the fishermen in Florida, Mississippi and Louisiana.
Just recently, it was found out that the long casting lures work best for catching trout and pike. They were also found to effectively catch stripers and bluefish. They can catch tuna and walleye in a breeze! 
Unlike heavy standard lures, this gear won't produce good fish-catch output up to 180-200 ft under water but be sure to effectively match your lure color, bait and related accessories to maximize performance.
 Deadly Diamond Lures- These lures are one of the smallest with sizes ranging from 1/8 to 1oz. They can seamlessly attract attention among fish and could form a school of fish in a minute!
 The reason is it lies on its structural surface formation and cut. The top handle is cut like a diamond and causes the reflection of light striking on its surface. The diamond lures are best for catching bass fish varieties, crappie and stripers although they work on a small range of fish species.
All in all, to pick the best lure, know what you are fishing and the conditions you'll be fishing in.